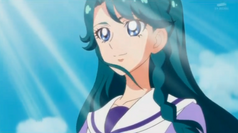 Good day, everyone. I am Kaido Minami, the student council president of Noble Academy, and I am here to talk about this wiki's rules. All users, registered or unregistered, must contribute to this wiki by these rules or there will be consequences. If you or a user you know has questions or a problem of some sort, ask the admins.
The rules are listed below, and it is very important that you follow them all the time.
Basic Rules that you see on most wikis
The rules listed as followed are rules that apply to this wiki and many others:
No vandalism
No harassing other users
Respect copyright
Admin and wiki officials can make rules official
If a rule is keeping you from contributing then break it, but tell admins first. This does NOT mean you can break language rules.
What Can and Cannot be Here
This wiki is a wiki for Pretty Cure fanseries, fan photos and anything else to do with the Pretty Cure franchise. If the fan content you add to a page is not yours, put a disclaimer at the bottom of the page to say it isn't yours. And you MUST do this 
As the name of the wiki says, this wiki is for fanfiction related to the Pretty Cure franchise. Information about the canon series should be placed on Pretty Cure Wiki or on blogs to tell us users the exciting news. Fanfiction that is not related to Pretty Cure should be placed on another wiki that belongs to that series topic and doesn't belong here at all. 
You can indeed make crossovers with different series relating to Pretty Cure, but have it fit in. You don't need Pretty Cure and something like a child TV show together. A recommendation is that you use magical shows or anime in your crossovers.
References
Thank to the Fan-Made PreCure Series Wiki's Policy for letting me see what info I should place on this page.
Ad blocker interference detected!
Wikia is a free-to-use site that makes money from advertising. We have a modified experience for viewers using ad blockers

Wikia is not accessible if you've made further modifications. Remove the custom ad blocker rule(s) and the page will load as expected.