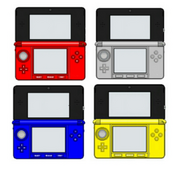 The GamePact ( ゲームパクト Gēmupakuto) is the transformation device use for the Cures in Go! Gamers Pretty Cure. For active this item they need of their respective
Cartridges
.
Appearance
The GamePact is a 3Ds like transformation device. The colour of GamePact will depend on of the cure how the GamePact belongs. On top of GamePact has the symbol representing the cure (Mushroom, Dia, Spade or heart). within the gamepact at the bottom of a screen with a place to put the cards and at the top of the other screen that makes the previews as were the letters in the cure. In the side of the GamePact,in the right has 4 buttons with the theme colour of the cure (Red,Blue,White or Yellow), and in the left has a D-pad.
Powers and Abilities
The GamePact allow the girls transform into pretty cure. The GamePact also allows to the girls change her clothes with the Dress Card.
Icons
Piano Icon-The piano Icon allows the cures play a melody and perform a attack when the Rainbow Card is inside of the GamePact. The Melodies that are play on piano allows the cures teleport to differents places.
Colors
Red-Momoko
White-Eri
Blue-Ayame
Yellow-Ki
Trivia
The GamePact work like a PreChanMirror.
The GamePact is the first 3Ds-like transformation device
The GamePact is the second device that need of carts for transform the girls.
The GamePact is the second transformation device who change the colour depend on of the cure how the device belongs
The GamePact is the third transformation device to have "Pact" in the name, the first is the Rose Pact.
Gallery
Ad blocker interference detected!
Wikia is a free-to-use site that makes money from advertising. We have a modified experience for viewers using ad blockers

Wikia is not accessible if you've made further modifications. Remove the custom ad blocker rule(s) and the page will load as expected.