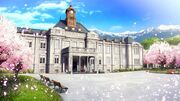 Princess Academy or Princess Academia is the school in Royalty Princess Pretty Cure. It is the school that the cures attend. Nanako Ishii (Queen Royal) is the principal of the school, although very few people seem to be aware of this.
Layout
The academy is described to be very big, bigger than normal schools.
It has a school building with light apricot walls and blue roofs as well as big windows. The school building consists of classrooms and offices.
There is a campus leading to the female dormitory.
The campus is large with a lot of trees and night lamps. In the dormitory, there are mainly rooms for the students.                             Besides that, there are also rooms for other activities such as: a lesson studio for ballet lessons (which is a required class), a cafeteria.
Outside the dormitory is a garden where they plant trees and flowers.
Near the dorm there is also a small hill and a small forest. In episode 10, it is revealed that there is a secret door deep in the forest. Behind it is a tunnel, which leads to a very big rose garden and a windmill house.
Activities The school has a lot of different activities. There is a ballet studio for students who practice ballet.
There are also many clubs: football, judo, karate, baseball, culinary etc. The students also do the dorm cleaning together. The school has a lot of traditions. Annually, they hold a ball game field day, which is held in order to foster the students' friendship. There is also a annual Garden Party, which is a tradition hailing back to the academy's foundation. Everyone attends wearing formal clothes, and the girls all wear dresses. The school also holds a family day for freshmen.
Uniforms
The princess academy is a Academy only for girls because it is not has Male uniform. 
Main Uniforms
The students wears a white shirt with a blue vest over the shirt. The students use blue,pink,purple,and red neckwear. Yellow and black checkered skirts and white stockings.
Notable Students
Yuki-san (graduated, works as the dorm mother)
Notable Staff
Tai and Yumi's Maths teacher
Tai and Yumi's homeroom teacher
Gallery
Characters/Uniforms
Locations
Trivia
This is the octave school with the title "Academy," preceded by Verone Academy in Futari wa Pretty Cure, Private Torigoe Academy and Christian Private White Clover Academy in Fresh Pretty Cure!, Myoudou Academy in Heartcatch Pretty Cure, Private Aria Academy in Suite Pretty Cure,Nanatsubashi Academy in Doki Doki! Pretty Cure, and Noble Academy in Go! Princess Pretty Cure.