Yume Kohura
{{{katakana}}}
夢Kohura
All
Personal Info
Species
Human
Gender
Female
Age
15
Birthday
January 15
Zodiac
Capricorn
Blood Type
O
Height
5'1
Hair Color
Brown
Eye Color
Brown
Family
Yume Izumi(Mother, killed by Naedo)

Deceased Father

Home Place
Sodukai
First Appearance
SO☆PC01
Alter Ego
Angel
Power
Sapphires
Theme Color
Purple
Her catchphrase is "That won't work!"(
それは動作しません!
Sore wa dōsa shimasen!)
Her catchphrase is "That won't work!"(それは動作しません!Sore wa dōsa shimasen!)
Her alter ego is Cure Angel(キュアエンジェル!
Kyuaenjeru!) She is the pretty cure of death and rebirth.
.
Appearance
Civilian Form
In her civilian form, Kohura wears underwear like shorts and a blueish shirt. She is sporty and wears this to her convenience. She had medium length hair and green high heels, as well as red nail polish.
Cure Angel
As cure angel, her hair grows to her hips and turns purple. She grows angel wings, the brooch she finds in Episode One pins to her shirt, which is then a sailor moon like purple suit. She also has earrings on, and her eyes turn purple.
Personality
Yume is a normally a happy girl, and loves Hinata deeply. As happy as she is, she bluntly calls joyous things "gay". As seen in Episode One, she loves food, is strong willed and sometimes obedient.
She also has a habit of cursing frequently, being the first to curse in almost every episode. She uses the words b and s, but weirdly refrains from dropping the F-bomb.
Weaknesses:
Yume is afraid of worms and death, although further weaknesses will be discovered as the story progresses
Skills:
Kohura has a habit of continuously cutting off someone in a conversation, and this trait is shown in Episode One. She also is good in athletics, even though this is not confirmed.
Fashion/Style:
Kohura likes sports and has high grades in her athletic class, she is never seen doing sports unless it is in class or for a performance. She normally sports themed clothes. Mainly to her convenience.
Cure Angel
Becoming Cure Angel: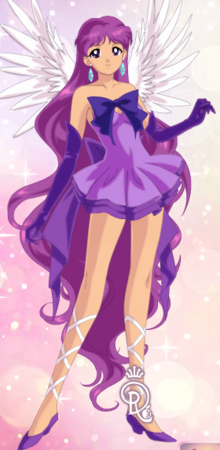 "Flying like the wings of an angel, Cure Angel!"
「天使の羽のように飛ぶ、天使を治します!」`
Tenshi no hane no yō ni tobu, tenshi o naoshimasu!'
She becomes Cure Angel in the 2nd episode to rescue Hinata from the first Manoko.
Attacks and Items:
Angel Sapphire Burst(エンジェルサファイアバーストEnjerusafaiabāsuto) is her first attack, when she transforms into Cure angel in Episode Two, she uses it to defeat the Monako. It makes a stream of purple light and sapphires, which like Hinata's punctures her enemies, however, this one can cause physical damage to the enemy. It causes Shizuku to lightly bleed.
Halation Sapphire Echo(ハレーションサファイアエコーHarēshonsafaiaekō) is her second attack, used after her mother is killed by Naedo. It makes a ray of purple arrows that stab the enemy, namely Naedo.
Trivia
Kohura is 15, which is uncommon, most lead cures are 14, and sometimes 13
Her theme color is purple, not pink
She is the first cure to cause physical damage to her enemy besides making them vanish.
In Japanese, Yume means "Dream"
Gallery
Ad blocker interference detected!
Wikia is a free-to-use site that makes money from advertising. We have a modified experience for viewers using ad blockers

Wikia is not accessible if you've made further modifications. Remove the custom ad blocker rule(s) and the page will load as expected.